TRANSFER
Split Dubrovnik Transfer
Distance
229 km
Estimate time
2.5h-3h
INCLUDED IN PRICE
Pickup & transfer
Wifi
Insurance
Water bottle
Split to Dubrovnik Transfer, Private Driver & Vehicle
Hire a private driver & vehicle for your Split to Dubrovnik transfer.

We provide you with door to door service as well as with luxury vehicle to make your transfer care free.

If you wish to make a simple Split to Dubrovnik transfer in to a one way day trip, we can offer you following:
Being door to door service, your driver will be meeting you at your hotel/private accomodation address in Split.

In case of your hotel/private accomodation is located in strictly pedestrian zone, we will coordinate meeting point with your host or provide you with nearest possible meeting point, same is true for drop-off in Dubrovnik.
Dubrovnik, The Pearl of the Adriatic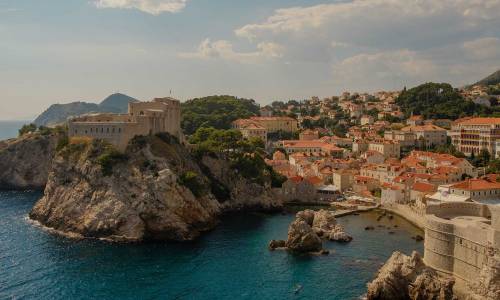 Upon arrival in Dubrovnik you will be offered by your driver to contact your host in order to arrange a meeting point.

In case your accommodation is located in strictly pedestrian zone and therefore not accessible by car.

Once your driver drops you off at previously agreed place, your Split to Dubrovnik Private Driver is finished.

Enjoy Dubrovnik and the rest of your vacation.
Places to visit when travelling from Split to Dubrovnik
You are not in a hurry and wish to enjoy the day?

Why not make it a one way day trip and go from Split to Dubrovnik via Ston (peninsula Pelješac) and taste one of the best oysters in Croatia or visit one of many vineries and enjoy some of the best wines in the Croatian wine empire.

You want to experience a piece of culture of our neighbouring country? Then Split to Dubrovnik with Mostar town is a way to go.

Visit historic town of Mostar in Bosnia & Herzegovina and open air museum that is village of Počitelj.

If you have any questions about any of the transfer options that we offer, or you wish to create your own one way day trip, contact us and we will provide you with the information you need in order to make your stay in Croatia as pleasant as possible.
Tripadvisor Profile
Quality of service is available to you on our Tripadvisor profile.

Read what many satisfied clients have to say about us and our services.
What is Private Transfer from Split to Dubrovnik?
Private Transfer from Split to Dubrovnik is Pre – Booked Private Transfer Service in Croatia offered to our clients.

Starting destianation and end destianation are previously agreed as well as the pick up time.

Price that is agreed upon is final and there are no additional fees or hidden fees.

For any further information we are at your disposal 24/7.
How do I book my Private Transfer Split to Dubrovnik?
For your convinience there is a simple 3 – Step Booking. 

After filing up basic transfer / day trip information you will be able to choose payment method.

If you choose to have, any of available activities, contact us for pricing and further information.
What kind of vehicles can I choose from for my Split to Dubrovnik Transfer?
For your Split to Dubrovnik Transfer Service you can choose between Premium car (up to 3 persons) & Premium minivan (up to 7 persons).

For larger groups in need for a minibus, contact us for offer.
The best way of travelling from Split to Dubrovnik?
The best way of travelling from Split to Dubrovnik is by using a Private Transfer Service.

Our Professional and Knowledgeable Drivers will ensure that you experience your Private Transfer in best possible way.
Transfer from Split to Dubrovnik
Split is the second-largest city in Croatia, located on the eastern coast of the Adriatic Sea. Dubrovnik is a Croatian city on the Adriatic Sea coast, situated on a small peninsula between the mountains and sea.
Transfer from Split to Dubrovnik:
The distance between Split and Dubrovnik is about 240 km. It will take about 3 hours to drive this distance at an average speed of 100 km/h.
.
About Split & Dubrovnik
If you are trying to decide whether to visit Split or Dubrovnik during your trip to Croatia, you have work to do for you, but you also cannot make a wrong decision.

Home to a stunning coastline, quaint cobbled streets, delicious food and gorgeous terracotta roofs, there is no doubt that both Dubrovnik and Split are the gems of the Croatian Dalmatian coast, so if you are trying to decide whether to visit Split or Dubrovnik during your travel to Croatia you have a tough decision to make.
Split is Croatia's second largest city, and Split feels more authentic than its incredibly beautiful but smaller and more touristy brother Dubrovnik.

After the capital Zagreb, the beautiful and historic Split is the second largest city in Croatia and the largest and most important port city on the Dalmatian coast.

From a stopover for tourists traveling by ferry to nearby islands or by private transfer to another more interesting tourist destination, Split has become one of the most popular places to visit in Croatia.
split dubrovnik transfer
This service provides you with a luxury vehicle to transport you from Split to Dubrovnik. You can choose between an Mercedes e class or Mercedes  v Class limousine for your journey. The driver will meet you at Split airport and escort you to your hotel in Dubrovnik.
split to dubrovnik private transfer service
Many travelers are increasingly using the services of a driver and turning a private transfer from Split to Dubrovnik into an
excursion. Transfer from split to dubrovnik is a great way to travel and, most importantly, relieves the stress associated
with crossing the border, insurance and navigating foreign roads. The second route is very convenient for those who arrive at
Split airport later in the day and want to travel to Dubrovnik on the same day
split dubrovnik private transfer
Split to Dubrovnik by Private car Transfer – Private car transfer to Dubrovnik is by far the most convenient way to travel
around the Adriatic. Definitely the most affordable way to travel and really needs to be sorted out (everyone has their own
budgets, ways to travel and idea of ​​a great vacation).
private driver split to dubrovnik 
After the driver picks you up from your accommodation or the airport, your door-to-door transfer begins with a leisurely
drive. With private transfers, transportation can be pre-booked for a fixed price at an agreed time, so you can be sure your
transportation will arrive.
split to dubrovnik transfer
For those of you who like to travel in style, don't want the stress of driving in a foreign country and want someone
experienced to take care of the trip, a private transfer from Dubrovnik to Split is what you are looking for. Whether you
take a private transfer, plane or bus from Dubrovnik to Split, the choice is yours. 
split to dubrovnik transfer
 If you have free time and are looking for
the cheapest way to get to Dubrovnik, the best choice would be the bus from Split to Dubrovnik or the bus from Dubrovnik to
Split. If this is you, then the best and fastest option is to take a transfer from Split airport to Dubrovnik and then rent a
car to Split airport and drive to Dubrovnik on your own.
transfer from split to dubrovnik
As a result, it is very easy to get to the center of Dubrovnik. The port of Split is located about 4 km from the center of
Dubrovnik. You can get to Dubrovnik by land (bus, private transport, car rental) or by sea (catamaran).
private transfer split to dubrovnik 
Depending on the route, traffic conditions, tolls and border controls, the journey from Dubrovnik to Split can take as little
as three hours. The bus ride takes about 4.5 – 5 hours, but it depends a lot on the day of the week. Depending on the
situation on the border of Bosnia and Herzegovina, the travel time including stops is about 4-5 hours.