Day Tours
Split Mostar Private Guided Tour
Road type
Highway / Public road
Estimate time
7-8h
INCLUDED IN PRICE
Pickup & transfer
Wifi
Insurance
Water bottle
Split to Mostar Private Guided Tour with Kravice Waterfalls
Hire a private driver, licensed tour guide & vehicle for your Split to Mostar Private Guided Tour with Kravice Waterfalls.

We provide you with door to door service as well as with luxury vehicle to make your day trip care free.

Being door to door service, your driver will be meeting you at your hotel/private accomodation address in Split.

In case of your hotel/private accomodation is located in strictly pedestrian zone, we will coordinate meeting point with your host or provide you with nearest possible meeting point, same is true return to Split.

Distance between Split and Mostar Town is 100 km. Duration of Private Guided Tour, Split to Mostar with Kravice Waterfalls is approx. 8 hours.

Upon arrival back to Split, Mostar & Kravice Waterfalls Private Guided Tour from Split is finished.
Suggested Itinerary
09:00 Departure from Split
11:00 Visit Mostar Town
12:30 Free time for lunch 
14:00 Departure from Mostar Town
14:50 Visit Kravice Waterfalls
18:20 Arrival in Split
Private Tour Includes
Split to Mostar & Kravice Private Tour
Mercedes E class / V class
Professional English speaking driver
Licensed Tour Guide for Mostar
All cost related to the vehicle & driver
Available Wi-Fi in the vehicle
0.5l bottle of water per passenger
What to expect on Split to Mostar with Kravice Waterfalls Private Guided Tour?
Your journey begins with meeting your driver at the given hotel / private accommodation address.

Little over 2 hours in to our drive, our first stop will be historic town of Mostar.
Mostar Town (Bosnia & Herzegovina)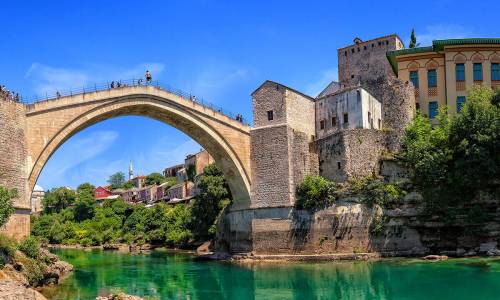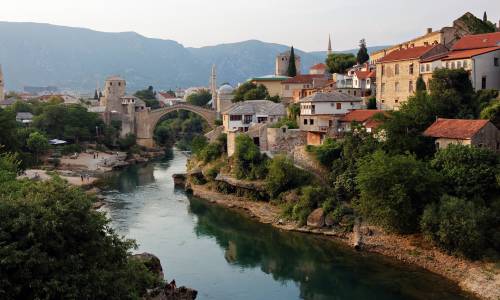 Mostar is not only considered capital of Herzegovina, but moreover cultural, financial and political centre of Herzegovina. It is a place where you will feel diversity and soul of Mostar.

In fact, for centuries this city is home where two major religions meet (Christianity and Islam). City is firstly mentioned in 15th century, however, Mostar started to grow in 16th century, when Turkish army established a military garrison.

Mostar famous landmark is undeniable Stari Most (Old Bridge). In 16th century, Turks replaced old wooden suspension bridge with stone arch bridge over Neretva river.

Furthermore, you can explore surrounding area which is along with bridge under UNESCO World Heritage list (since 2005.). On our private tour of Mostar from Split, our second stop is at Kravice Waterfalls.
Kravice Waterfalls (Bosnia & Herzegovina)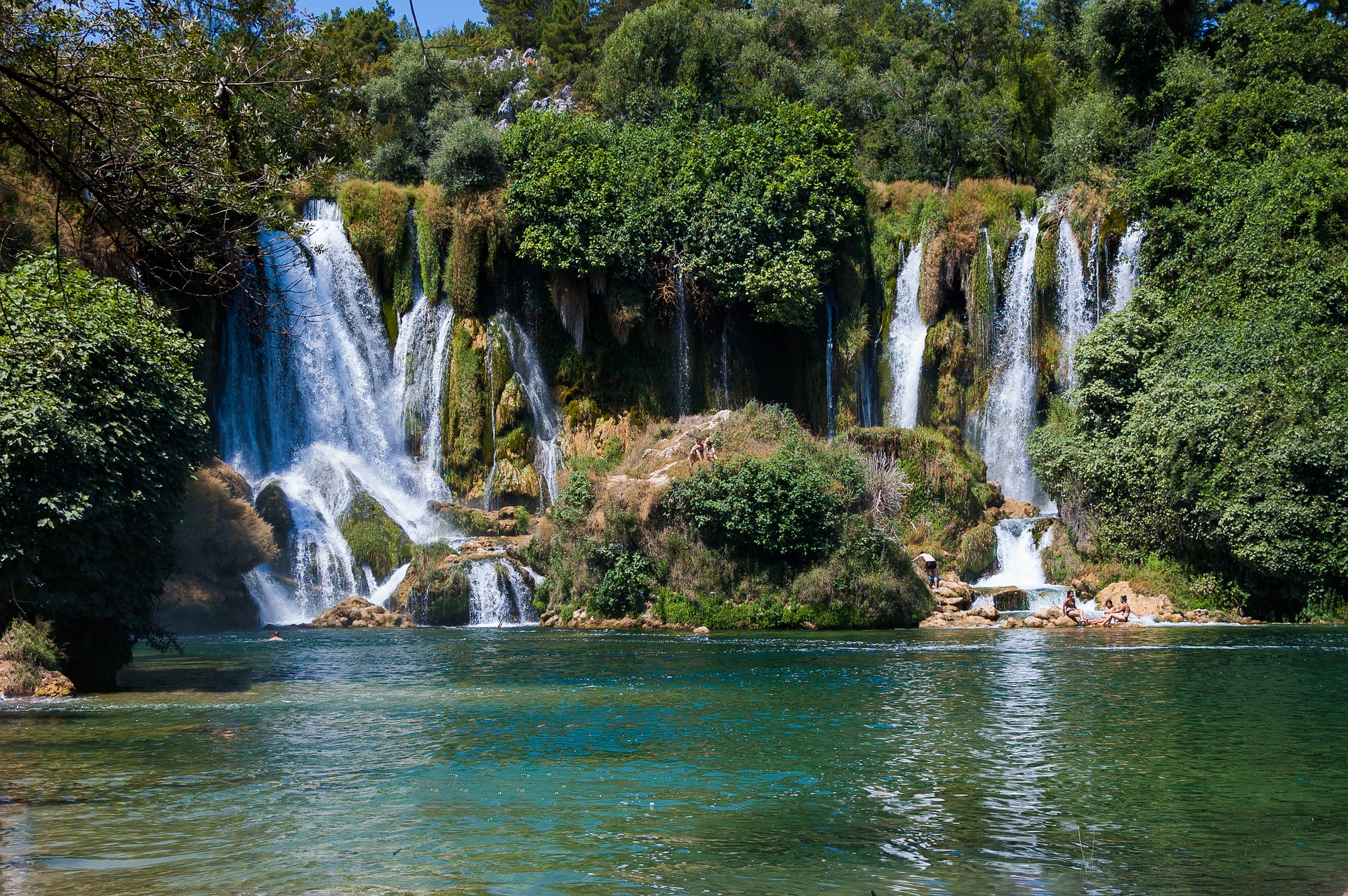 Near town of Ljubuski, explore this beautiful natural gem built by water of river Trezibat.

After visiting Kravice Waterfalls, our 2 hours journey back to Split begins.
City of Split
Upon arrival in Split and your driver dropping you off at previous starting point of the tour, your Split to Mostar Private Tour is finished.

Enjoy Split and the rest of your vacation.
What about tickets for Kravice Waterfalls?
Tickets for Kravice Waterfalls are not included in the price of the tour and can be purchased at the entrance of Kravice Waterfalls.
Tour Guide for Mostar Town
Tour guide for Mostar Town is included in the price of the tour.
Tripadvisor Profile
Quality of service is available to you on our Tripadvisor profile.

Read what many satisfied clients have to say about us and our services.
What is Split to Mostar Private Tour?
Split to Mostar Private Tour, is Pre – Booked Private Chauffeur Service in Croatia offered to our clients.

Starting destianation and end destianation are previously agreed as well as the pick up time.

Price that is agreed upon is final and there are no additional fees or hidden fees.

For any further information we are at your disposal 24/7.
How do I book my Split to Mostar Private Tour?
For your convinience there is a simple 3 – Step Booking. 

After filing up basic transfer / day trip information you will be able to choose payment method.

If you choose to have, wine tasting and/or oyster tasting, contact us for pricing and further information.
What kind of vehicles can I choose from for my Split to Mostar Private Tour?
For your Private Tour you can choose between Mercedes E class (up to 3 persons) & Mercedes V class (up to 7 persons).

For larger groups in need for a minibus, contact us for offer.
The best way to visit Mostar Town from Split?
The best way of visiting Mostar is by using a Private Transfer Service.

Our Professional and Knowledgeable Drivers will ensure that you experience your Private Tour in best possible way.
If you don't want to drive, a guided day trip from Split to Mostar is a good option. If you are planning your own day trip from Split to Mostar, this suggested itinerary should help you make the most of your time while exploring Mostar.
If you want to combine a day trip to Mostar with a stop in Medjugorje, a Christian pilgrimage site, this itinerary will follow a similar itinerary to the one above, but allow you to visit Medjugorje instead of Pochitel and Kravice National Park . From Medugorje you can quickly reach Mostar, where you will see its famous bridges. After showing you the jewel of the Old Town of Mostar: Stary Mostar Bridge, our guide will be waiting for you in Mostar during your free time. We'll visit an old bazaar full of quaint shops and workshops, a mosque, and walk along the famous 16th century Old Turkish Bridge, from which Mostar takes its name (the bridge itself).
In your free time, you will have the opportunity to explore Mostar on your own. The local guide will impress you and you will have a guided tour followed by 2 hours of free time to experience the rich culture of the amazing city of Mostar. Mostar's old town is quite compact, so a day trip from Split will give you plenty of time to enjoy the highlights of Mostar.
One of Split's most popular private tours will begin with a visit to the natural beauty of Modelo and the Crveno Jezero (red and blue lakes), before exploring the charming medieval city of Mostar.
On a day trip from Dubrovnik to Mostar, you will have a few hours to explore the charming city of Mostar, take a quick dip in Kravis Waterfalls and visit the ancient Turkish city of Pochitl , and learn a little about war. One stop on a day trip from Dubrovnik to Mostar will be Potsitel, a charming medieval and Ottoman-Mediterranean walled village full of nature and interesting (but deteriorating) architecture.
During a day trip to Mostar from Split, I suggest you take the time to walk around and admire all the beauty. Apart from Split in Croatia, there are many other great cities and places near Mostar to explore and enjoy on a day trip. Apart from visiting Mostar from Split, I recommend visiting the capital Sarajevo.
If you're considering a day trip from Split to Mostar, here's everything you need to know about getting there and everything you need to know to make the most of your short stay in Bosnia and Herzegovina. Our private day trip from Split to Mostar will take you to some of the best places in Bosnia and Herzegovina, our guide will give you information about Mostar and Its expertise in famous bridges. On our day trip from Split to the small town of Mostar, we learned a lot about the war, enjoyed delicious food, and learned how people from different cultures and religions coexist peacefully in Bosnia . We made this amazing day trip from Split to Mostar so that travelers can visit the most famous places in many different cities in Croatia.
From the World to Wandering Ashley and I also did a day trip to Plitvice Lakes National Park from Pula to Split (which is off the beaten track) and from Split to Moss in Bosnia and Herzegovina Tal and day trip from Dubrovnik to Kotor in Montenegro. If you want to learn more about Bosnia and Herzegovina and stay longer, you can fly into the capital Mostar International Airport or Sarajevo International Airport. If you decide to stay at least one night and can split Mostar and its surroundings into two days, you can also visit Bragaj, one of the most sacred and oldest places in Bosnia and Herzegovina.
As mentioned above, if you can stay overnight in Mostar, then you can also visit Blagai (there is simply not enough time for a short trip to Dubrovnik or Split). If you come to Mostar from Dubrovnik, you will probably stop at Kravis Waterfall and Pochitel Pochitel before your last stop of the day: Mostar.