Day Tours
Split Trogir & Salona Private Guided Tour
Distance
40 km
Road type
Public road
Estimate time
5-6h
INCLUDED IN PRICE
Pickup & transfer
Wifi
Insurance
Water bottle
Split, Trogir & Salona Private Guided Tour
Hire a private driver, licensed tour guide & vehicle for your Split, Trogir & Salona Private Guided Tour.

We provide you with door to door service as well as with luxury vehicle to make your day trip care free.

Being door to door service, your driver will be meeting you at your hotel/private accomodation address in Split.

In case of your hotel/private accomodation is located in strictly pedestrian zone, we will coordinate meeting point with your host or provide you with nearest possible meeting point, same is true return to Split.

Distance between Split and Trogir is 40 km. Duration of Split, Trogir & Salona Private Guided Tour is approx. 6 hours.

Upon arrival back to Split, Split, Trogir & Salona Private Guided Tour is finished.
Suggested Itinerary
08:00 Meet your Driver & Tour Guide in Split
08:30 Ancient Salona Walking Tour
09:30 Departure towards Trogir
10:00 Trogir Walking Tour
12:00 Departure towards Split
12:45 Split Walking Tour
14:15 Split, Trogir & Salona Tour is finished
Private Tour Includes
Split, Trogir & Salona Private Tour
Mercedes E class / V class
Professional English speaking driver
Licensed Tour Guide for Split, Trogir & Salona
All cost related to the vehicle & driver
Available Wi-Fi in the vehicle
0.5l bottle of water per passenger
What to expect on Split, Trogir & Salona Private Guided Tour?
Your journey begins with meeting your driver at the given hotel / private accommodation address, at previously agreed time of departure.

Only 20 minutes in to our journey, our first stop are ancient Roman ruins of Salona.
Ancient Roman ruins of Salona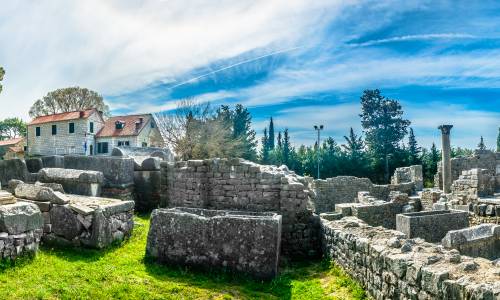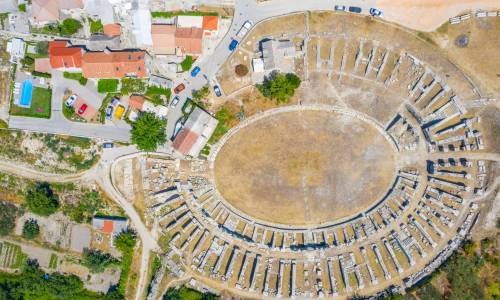 The ruins of Salona, ​​the capital of the ancient Roman province of Dalmatia, are located 6 km north of Split.

Salona is an archaeological site located in the modern city of Solin in Croatia.

Salona was the largest Roman city at the time in the area with 60.000 inhabitants. At its peak it had amphitheater, early christian basilicas, great temples, massive stone walls… it was mostly destroyed by invasions of Avars and Croats in the 7th century AD.

Salona remained a Roman city in the 5th and 6th centuries, becoming an important center for the early Christians of the area and remained Roman longer than most other cities in the western half of the Roman Empire.

Once finished exploring these fasciniting ruins our journey to Trogir begins.
Town of Trogir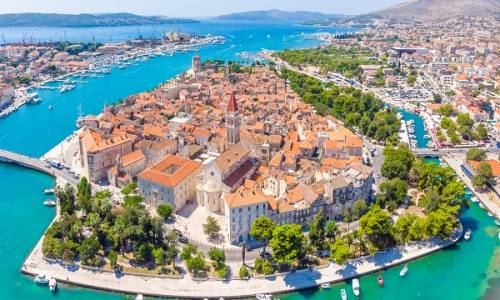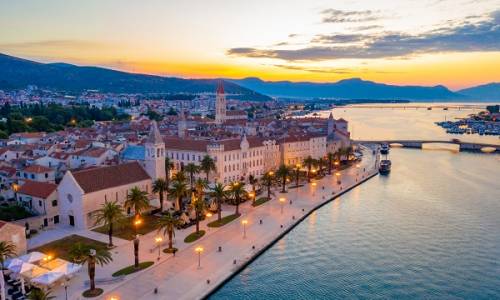 The historic town of Trogir is considered to be the best preserved Romanesque-Gothic complex in Central Europe, not just in Croatia.

One of the sights worth visiting is the Trogir Cathedral of St. Lovro (St. Lawrence), located right in the center of this Romanesque town.

Founded by the Greeks from Vis in the 3rd century BC, Trogir can be compared with any city on the Dalmatian coast in terms of the number of historical monuments, and the Trogir Cathedral is one of the most beautiful on the Adriatic.

The historical core of Trogir is one of the reasons why it has been recognized by UNESCO. Located just 27 km northwest of the largest Adriatic city of Split, Trogir is often referred to as the city of museums due to its historical and cultural
significance.

After visiting this beautiful Dalmatian town our journey back to Split begins.
City of Split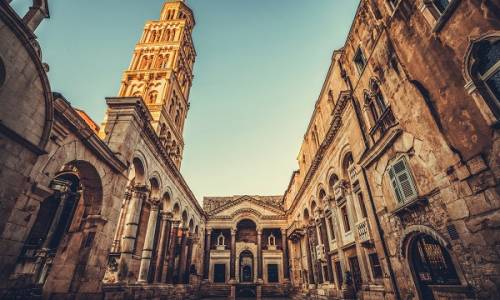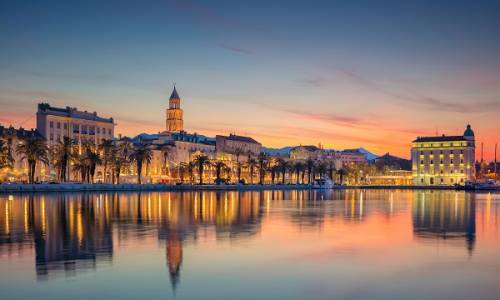 The historical complex of Split with the Diocletian's Palace is a UNESCO World Heritage Site in Croatia, registered in 1979.

Built by the Roman emperor Diocletian as a retirement home, the 1,700-year-old palace is no lifeless ruin, it is the beating heart of Split, the historical center. Built for Diocletian in the early 4th century AD, Diocletian's former palace was even more like an entire city than a mere palace, with the emperors' quarters occupying about half of thesprawling structure.

The ruins of Diocletian's palace, built between the end of the 3rd century and the beginning of the 4th century AD, are scattered throughout ancient Split. The city was not built on the ruins of Diocletian's palace, as can be seen in many other places, but that it was built inside the palace.

The former Diocletian's Palace, which covers the entire historic center of Split, has many historical monuments, including the Basilica of St. Domus. Diocletian's Palace has become the historic center of Split with numerous shops, cafes, restaurants and even apartments in old buildings on the narrow streets of the palace/fortress.

Upon finishing Split walking tour with yout tour guide, Split, Trogir & Salona Private Tour is finished.

Enjoy Split and the rest of your vacation.
What about entrance fees for the attractions?
Entrance fees are not included in the price of the tour therefore please prepare the exact amount when you meet your driver & tour guide at the day of the tour.
Entrance fees for the attractions
Mausoleum & Temple of Jupiter, approx. 3,50 EUR (HRK 25.00) per person
Ancient ruins of Salona, approx. 4,00 EUR (HRK 30.00) per person
St Lawrence's Cathedral, approx. 3,50 EUR (HRK 25.00) per person
Tour Guide for Split, Trogir & Salona Private Tour
Tour guide for Split, Trogir & Salona Private Tour is included in the price of the tour.
Tripadvisor Profile
Quality of service is available to you on our Tripadvisor profile.

Read what many satisfied clients have to say about us and our services.
What is Split, Trogir & Salona Private Tour?
Split, Trogir & Salona Private Tour, is Pre – Booked Private Chauffeur & Tour Guide Service in Croatia offered to our clients.

Starting destianation and end destianation are previously agreed as well as the pick up time.

Price that is agreed upon is final and there are no additional fees or hidden fees.

For any further information we are at your disposal 24/7.
How do I book my Split, Trogir & Salona Private Tour?
For your convinience there is a simple 3 – Step Booking. 

After filing up basic transfer / day trip information you will be able to choose payment method.

If you choose to have, wine tasting and/or oyster tasting, contact us for pricing and further information.
What kind of vehicles can I choose from for my Private Tour?
For your Private Tour you can choose between Mercedes E class (up to 3 persons) & Mercedes V class (up to 7 persons).

For larger groups in need for a minibus, contact us for offer.
The best way to visit Trogir & Salona from Split?
The best way of visiting Trogir & Salona from Split is by using a Private Transfer Service.

Our Professional and Knowledgeable Drivers will ensure that you experience your Private Tour in best possible way.