TRANSFER
Split Zagreb Transfer
Distance
410 km
Road type
Highway / Public road
Estimate time
4h
INCLUDED IN PRICE
Pickup & transfer
Wifi
Insurance
Water bottle
Split to Zagreb Private Transfer
Hire a private driver & vehicle for your Split to Zagreb Private Transfer.

We provide you with door to door service as well as with luxury vehicle to make your transfer care free.

If you wish to make a simple Split to Zagreb Transfer in to a one way day trip, we can offer you following:
Being door to door service, your driver will be meeting you at your hotel/private accomodation address in Split.

In case of your hotel/private accomodation is located in strictly pedestrian zone, we will coordinate meeting point with your host or provide you with nearest possible meeting point, same is true for drop-off in Zagreb.
Zagreb, the capital of Croatia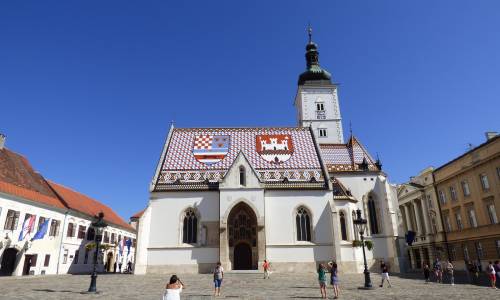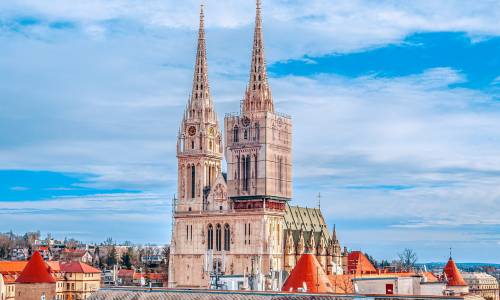 Upon arrival in Zagreb you will be offered by your driver to contact your host in order to arrange a meeting point.

In case your accommodation is located in strictly pedestrian zone and therefore not accessible by car.

Once your driver drops you off at previously agreed place, your Split to Zagreb Private Transfer is finished.

Enjoy Zagreb and the rest of your vacation.
Places to visit when travelling from Split to Zagreb
You are not in a hurry and wish to enjoy the day?

Why not make it a one way day trip and go from Split to Zagreb via Plitvice Lakes and explore the biggest national park in Croatia & watermill village of Rastoke.

You have already been to Plitvice Lakes? Then Split to Zagreb via Krka National Park is a way to go.

Visit Krka Waterfalls, one hour drive from Split & picturesque town that is Skradin.

If you have any questions about any of the transfer options that we offer, or you wish to create your own one way day trip, contact us and we will provide you with the information you need in order to make your stay in Croatia as pleasant as possible.
Tripadvisor Profile
Quality of service is available to you on our Tripadvisor profile.

Read what many satisfied clients have to say about us and our services.
What is Private Transfer from Split to Zagreb?
Private Transfer from Split to Zagreb is Pre – Booked Private Transfer Service in Croatia offered to our clients.

Starting destianation and end destianation are previously agreed as well as the pick up time.

Price that is agreed upon is final and there are no additional fees or hidden fees.

For any further information we are at your disposal 24/7.
How do I book my Private Transfer Split to Zagreb?
For your convinience there is a simple 3 – Step Booking. 

After filing up basic transfer / day trip information you will be able to choose payment method.

If you choose to have, any of available activities, contact us for pricing and further information.
What kind of vehicles can I choose from for my Split to Zagreb Transfer?
For your Split to Zagreb Transfer Service you can choose between Premium car (up to 3 persons) & Premium minivan (up to 7 persons).

For larger groups in need for a minibus, contact us for offer.
The best way of travelling from Split to Zagreb?
The best way of travelling from Split to Zagreb is by using a Private Transfer Service.

Our Professional and Knowledgeable Drivers will ensure that you experience your Private Transfer in best possible way.
Zagreb – Political, cultural and economic center of Croatia also has much to offer trough eyes of a tourist. Zagreb as a settlement is first recorded in 1094., but its history goes way back to the Roman times. Today, city has found its place on the slopes of mountain Medvednica, which stands guard above Zagreb.
Especialy interesting landmark of the city is river Sava which is flowing lazy trough the city. In fact, Zagreb was historicaly and culturaly much influenced especialy by Budapest and Vienna, and looking up to theese modern central european cities, it has become a business and university centre, vibrant city of entertaiment and culture.
Central part of Zagreb is equally rich with green oasis, romantic streets, many squares, as well as with monuments and religous objects. Today, the city has three main parts; Lower Town (Donji grad), Upper Town (Gornji grad) and New Zagreb (Novi Zagreb), which is today concidered as a modern part of the city.
Characterized  as a year – round destination, from Zagreb you can travel easily to any part of Croatia and wider. Zagreb airport is well connected to most of European cities and several world capitals, which makes it convinient to transfer you anywhere you desire within just several hours.
Traveling to Split, Zadar or any destination in Dalmatia there is always option to make addittional stop at Plitvice Lakes National Park or National Park Krka waterfalls.
Furthermore if you decide to turn north of Zagreb, there is a lot to see. Croatian Zagorje offers many castles, wine roads and baroque towns which can be combined just before we turn south to the beautiful Adritic coast.
Despite Zagreb is a capital and largest city in Croatia, it is very easy to explore its culture and history, or just to wander around.
In fact by exploring old part of the city, also named the Upper Town, you will find many historic streets, Goverment buildings, St Marko church with its beautiful roof top presenting Croatian coats of arms.
Walking to downtown area you will pass by Zagreb Cathedral and Farmers market Dolac, from which you will easy find your way to Zagreb main square Ban Jelačić.
After so much sightseeing, you have a oportunity to choose between many traditional Zagreb restaurants. They will offer you a chance to try some of best local specialties.